Description
Certificate in Well-Being Level 1 aims to increase learners' knowledge of the society in which they live and will work, providing them with the knowledge and skills to make balanced and increasingly independent transitions both now and in later life.
The aim of this qualification is to equip learners with a comprehensive understanding of personal and social development, including critical areas such as personal relationships, values and beliefs, equality and diversity in society, mental and physical well-being, as well as the crucial concept of risk and effective methods to manage and reduce it. Ultimately, this will empower learners to make informed and positive choices that can positively impact their lives.
Assessment
A Level 1 Well-Being certification requires meeting all unit learning outcomes and assessment criteria. Assessment consists of a required workbook evaluated both internally and through external quality assurance.
Eligibility
Fully government-funded places are available for anyone: who is over 19, currently lives in England and has lived within the EU for the last three years. The student would have to provide proof of ID, proof of Address (dated the last 2 months), proof of National Insurance Number and proof of Settled or Pre-Settled Status (Only for EU students).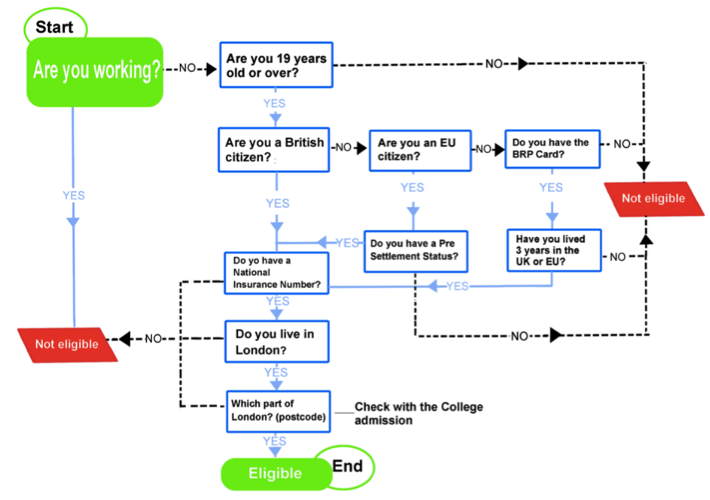 Requirements
This qualification does not require any prior learning requirements, and as such, anyone can enrol. In other words, there are no prerequisites for this qualification, making it accessible to all. However, we recommend candidates have a level of literacy and numeracy equivalent to Level 1. All students would have to attend an initial assessment test.
Dates and times
Tuesday and Wednesday 10-12 pm or 12 pm to 2 pm.
Price
Free: Funded
Award
Upon successful completion of this course, candidates will be awarded a Certificate in Well-Being Level 1
If you wish to have more information, we will be glad to help you at the reception of the college.