Description
Funded Functional Skills English are for people whose first language is English.
This course gives students practical skills for the modern world and help them get the most from life, learning, and work.
This specification aims to ensure students have good communication skills in reading, writing, speaking, and listening. It will also equip students with the life skills they need to succeed. The goal of the qualifications is to build confidence and provide excellent preparation for further education and employment.
Often a student's first accredited qualification in English, this course can be used in preparation for GCSE. It is suitable for a wide ability range and is used by many schools as an equivalent.
There are no prior learning requirements for this pass/fail qualification.
HOW TO ENROLL:
All students will be required to complete an Initial English and Mathematics assessment. The assessment will determine your appropriate level of study, Beginner (A1) up to Proficiency level (C2).
We would have to check your eligibility to find out if you are eligible to have access to funding.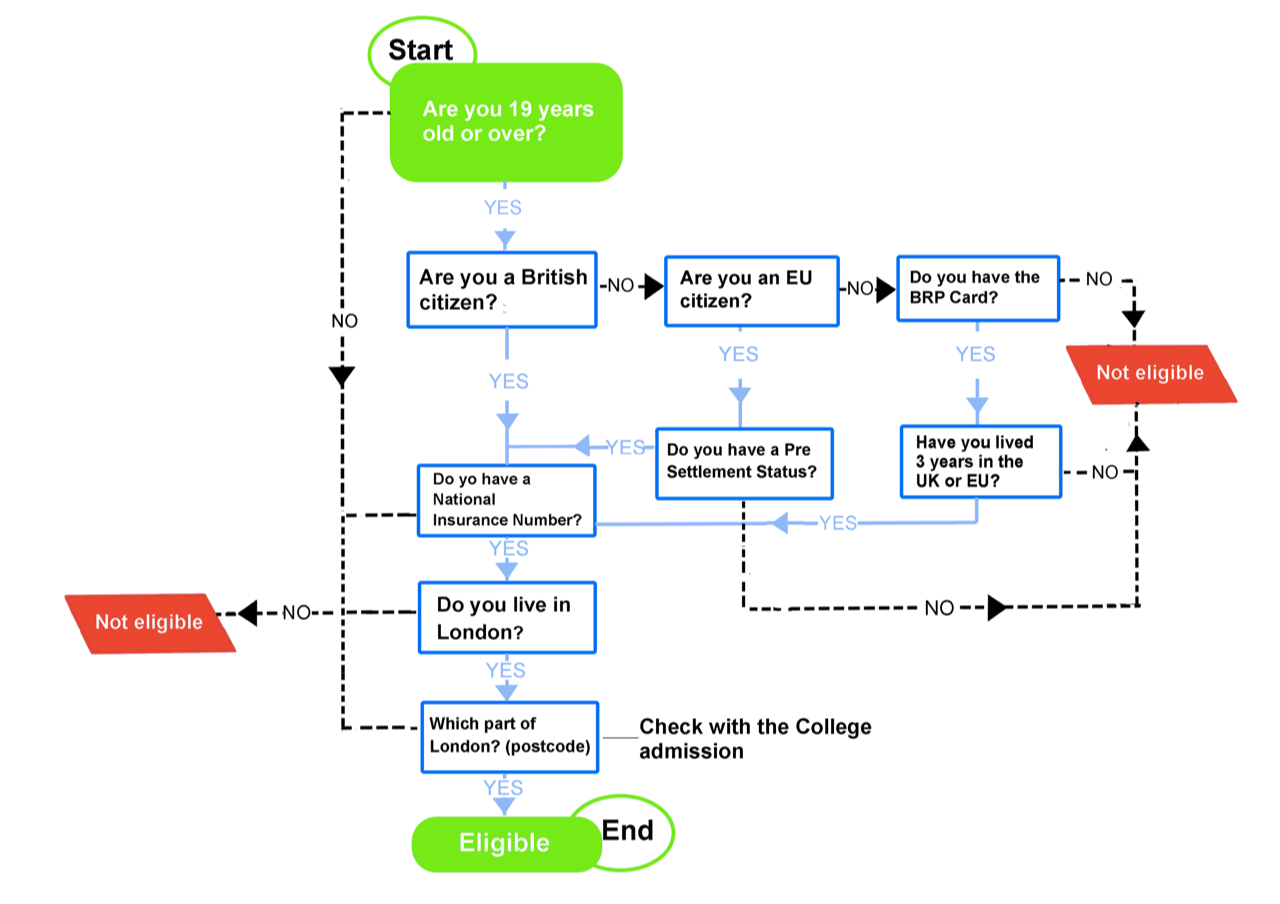 Test of Functional Skills English:
The test is divided into 4 parts:
– Oral comprehension / speaking = 30-60 mins:
The candidates answer questions while they are listening and they have to give their opinion on a particular subject and explain it.
– Reading comprehension = 1 hour:
People in the test have to give answers according to a few texts.
– Written expression = 1 hour:
People in the test have to justify their opinion on a specific topic with different essays.
Course time:
Classes are at the college.
Monday to Friday
Face to Face or Online.
10:00 am to 12:00 pm
12:15 pm to 2:15 pm
| | |
| --- | --- |
| Course length: | 4 weeks mimimum |
| Class size: | Max 15 (average class size 7-12) |
| Minimum age: | 18 |
Packages and Fees:
Monthly Sessions
P1:
1 month*: Free
P2:
3 months*: Free
P3:
6 months*: Free
*Each session has 4 weeks of classes, however, the December session has only 3 weeks of classes.
Fees: Free Funded Functional Skills English
Admin fees: £50 per month
Exams Options:
Exams are also available and they are funded by the government for eligible students.
Class Levels Available:
| | |
| --- | --- |
| A1 | Entry Level 1 |
| A2 | Entry Level 2 |
| B1 | Entry Level 3 |
| B2 | Level 1 |
| C1-C2 | Level 2 |
Start dates and end dates for the periods of January 2022 to December 2022.
Period of January. Starts from 10-01-2022 to 28-01-2022. Not available anymore
Period of February. Starts from 31-01-2022 to 25-02-2022. Not available anymore
Period of March. Starts from 28-02-2022 to 25-03-2022. Not available anymore
Period of April. Starts from 04-04-2022 to 29-04-2022. Not available anymore
Period of May. Starts from 03-05-2022 to 27-05-2022. Not available anymore
Period of June. Starts from 30-05-2022 to 24-06-2022. Not available anymore
Period of July. Starts from 04-07-2022 to 29-07-2022.
Period of August. Starts from 01-08-2022 to 26-08-2022.
Period of September. Starts from 05-09-2022 to 30-09-2022.
Period of October. Starts from 03-10-2022 to 28-10-2022.
Period of November. Starts from 31-10-2022 to 25-11-2022.
Period of December. Starts from 28-11-2022 to 16-12-2022. (only 3 weeks)